Tiger Words is a recurring series of segments from Between the Lions. In each installment, word-writing phenom Tiger Words approaches the T, and attempts to correctly spell a given word.
The name "Tiger Words" is a pun on that of golf champion Tiger Woods.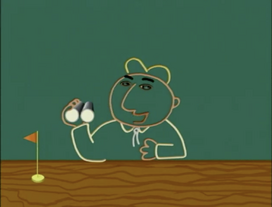 Segments
Correct Words
Incorrect Words
Choose a Word
toof or tooth
trick or truck
pant or paint
Appearances
Writing Tools and Others in a Pencil Case
a number-two pencil - tooth/paint
a purple marker - trip
a pen - truck
a black pen - top
a blue pencil - stack
an erasable pen - tent
a lawn mower - trip
a magic wand - truck
a paintbrush and a blue paint - paint
a paintbrush and a green paint - top
a big pink eraser - stack
Prizes
A Tube of Toothpaste
A Trip to Tripoli
A Train Trip to Spain
Lots of Tops
A Stack of Flapjacks
Ten Tents
Choose a Prize
Trivia
Tiger's name is a pun on the name of American professional golfer, Eldrick Tont "Tiger" Woods, with the tournament being a writing contest modeled off from a golf tournament.
There are seven segments, which include, tooth, trip, truck, paint, top, stack, and tent.
The correct words are, trip, top, stack, and tent.
The incorrect words are, trap, pot, stick, and tint.
Choose a word for this segment is toof or tooth, trick or truck and pant or paint.
The segments were animated by The Ink Tank.
The voice of the announcer was provided by Fred Newman.
Gallery
Opening with Tiger
Golf Announcer's Head or Body
Correct Words
Incorrect Words
Choose a Word
Writing Tools and Others in a Pencil Case
Prizes
Choose a Prize