Theodor "Theo" Lion is one of the main characters on the show. He is the husband of Cleo Lion and the father of Lionel and Leona Lion. He is performed by Peter Linz. Theo was named after Dr. Seuss, whose real name was Theodor Seuss Geisel. (In fact, on books Seuss wrote but left for other people to illustrate, Seuss called himself Theo Lesieg.)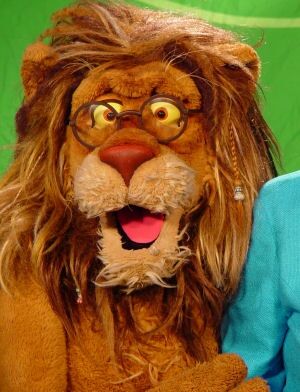 Theo, like all the other lions but more so, is usually hungry and requires a great deal of sleep.
In 2002, Theo appeared in an interview on NPR's Morning Edition along with executive producer Judith Stoia (whom he addresses as "Judy"). He described briefly the content of the show and answered a couple questions in character. He and Stoia described conflicts between different schools of thought in language education as well as a funding shortfall. The interview is punctuated with audio clips of songs from the show.
In one interview, Linz confessed to control Theo's mouth and eyelids with his right hand and Theo's left hand with Linz's left hand. Someone else would operate Theo's right hand.