Theodor "Theo" Lion is one of the main characters on the show. He is the husband of Cleo Lion and the father of Lionel and Leona Lion. He is performed by Peter Linz.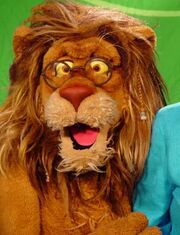 As the patriarch of the Lion family, Theo is the owner and manager of the Barnaby B. Busterfield III Memorial Library. When he isn't spending time with his wife and children, Theo is usually seen managing the library's front desk or taking care of other tasks around the library.
Theo is normally jovial and pleasant, and loves his family dearly. He has a good rapport with the other residents and guests of the library, and adores reading. Like the other lions, his favorite foods are meats of all kinds, and will sometimes abandon self-restraint in favor of devouring a meaty treat. While energetic and fun-loving, Theo also likes to nap; he can sometimes be seen getting some shut-eye at the front desk. He and Cleo are deeply in love, and flirt or flatter one another often.
Despite his boundless energy and somewhat loud personality, Theo rarely gets angry, and doesn't punish his cubs in a harsh manner when they misbehave. As a parent, he strives to teach his children, to have fun with them, and to make them feel happy and safe.
Theo is capable of a number of roars, like any lion. His most extreme roar, the mighty roar that makes them run, is one he never uses except under very specific circumstances- when he uses it, people flee in terror, or are literally blown away by its intensity.
In 2002, Theo appeared in an interview on NPR's Morning Edition along with executive producer Judith Stoia (whom he addresses as "Judy"). He described briefly the content of the show and answered a couple questions in character. He and Stoia described conflicts between different schools of thought in language education as well as a funding shortfall. The interview is punctuated with audio clips of songs from the show.
In one interview, Linz explains that he controlled Theo's mouth and eyelids with his right hand and Theo's left hand with Linz's left hand. Someone else would operate Theo's right hand.