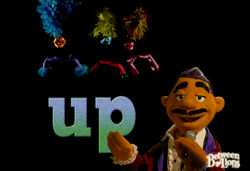 The Vowelles are vocalists, made up of of floating lips and wigs, who perform with Johnny Consonanti and Martha Reader. They often accompany Reader in Motown-style harmonies as part of a group, Martha Reader and the Vowelles (playing on the Motown group Martha Reeves and the Vandellas).
Martha Reader and the Vowelles usually perform the vowel sound out of the middle of a monosyllabic word, singing it to a tune similar to Martha and the Vandellas' 1963 hit "Heat Wave," accompanied by saxophone. In Season 1, they also occasionally performed two-letter words, with them performing the vowel, and Consonanti performing the consonants.
In the first season, they performed in front of a black background. This background was changed in Season 2 to a bright silver background, revealing that the group is nothing more than a floating group of lips. Additionally, their appearances were now preceded by an introduction from Consonanti.
Segments and songs
[
]
Season 1
[
]
Seasons 2, 3 and 4
[
]
Gallery
[
]
Season 1
[
]
Seasons 2, 3 and 4
[
]