Season 4 of Between the Lions premiered on September 15, 2003, and ended on September 19, 2003.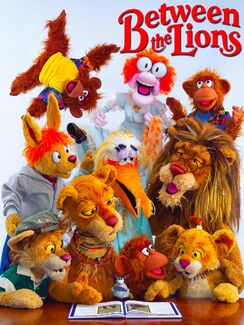 Episodes
[
]
Cast
[
]
Pam Arciero
Heather Asch
Jennifer Barnhart
Jim Kroupa
Tim Lagasse
Peter Linz (recycled segments only)
Jim Napolitano
Matt Vogel
Trivia
[
]
This season was filmed alongside Season 3, but was held back for unknown reasons. As a result, it is the shortest season of the series.
During the season, the letters I and U are absent.
This is the last appearance of the two short vowels "a" and "e".
This is the last appearance of "oa"
The word families are "ack", "ad", "ake", "ale", "ame", "ant", "ape", "ar", "ark", "arn", "ase", "ay", "ed", "ep", "et", "oak", "oast", and "oat".
This is the last season where Tim Lagasse portrays Theo, as Peter Linz would return to the role in Season 5.
This is the last season filmed in New York City. Production moved to Mississippi in Season 5.
This is the last season under the show's original format. After this season aired, the show went on hiatus until 2005, and returned with a much different format.
Barnaby B. Busterfield III, Walter and Clay Pigeon, and Martha Reader and The Vowelles stop making new appearances after this season, but occasionally resurface in repeated segments. Click disappears for a while, as well, but she returns in Season 9.