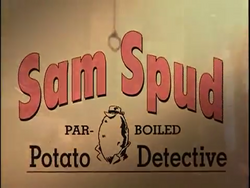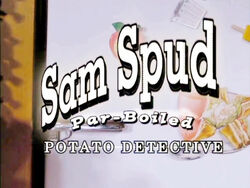 Sam Spud: Par-Boiled Potato Detective is a segment that parodies the Sam Spade detective stories. This segment makes heavy use of sight gags based on word play (such as the narrator referring to the entrance of a "tomato"—1930s slang for an attractive woman—who is revealed to be a real tomato wearing a outfit; and some of the female's would wear fake lips to show their female's this stuck to the segments till the end and a neon sign that blinks the words and opposites "Loose Bulb", "Endless Endless", "Bright" and "Dark", "Flicker Flicker", "The Fritz", "Crackle Crackle", "On" and "Off", "Flash Flash", "Buzz Buzz", "Creak Creak", "Zap Zap", and "Eek Eek"). Sam Spud is voiced by series' co-creator Michael K. Frith and Precious Peach is voiced by Jennifer Barnhart.
In most cases, the segments would end with a real-life girl or boy watching Sam Spud on television and calling out to his or her mother that "There's a talking potato with a hat on and no mouth!" (or some variation), and the mother calling from off-screen telling a kid not to worry and that it's educational television, so it must be good for him/her. On one occasion, it ends with the mother telling a girl never say the word "dumb" after describing a pickle with a zipper. These ending sequences were phased out after Season 1.
The Sam Spud segments became rarer in Season 2, and mostly disappeared after that.
The segment is a companion piece to What's Cooking? with Theo and Cleo.
Segments
[
]
Correct Words and Names
[
]
cool
eggs
hamburger
pickle
jam
Sam
knock
Banana
kid
peach
masher in the neighborhood
eel
Incorrect Words and Names
[
]
cowl
iggs [only a false word]
humbarger [only a false word]
pockle [only a false word]
jim [only a false word]
Same [only a false name]
knuck [only a false word]
Binini [only a false word]
kud [only a false word]
pooch
neighbor in the masherhood [only a false word]
owl
Appearances
[
]
Dialogue variations (Kids)
[
]
Dialogue variations (Kid's mother)
[
]
Gallery
[
]
Other Characters
[
]
A neon sign that blinks the words and opposites
[
]
Correct Words and Names
[
]
Incorrect Words and Names
[
]
Girl or Boy Watching on Television
[
]
Kid's mother (off-screen)
[
]
Trivia
[
]