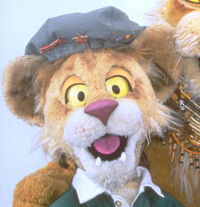 Lionel Michael Lion is one of the main characters of Between the Lions. He is the older child and only son of Theo and Cleo Lion, and the brother of Leona Lion.
He is the only member of the Lion family to wear any actual clothing, that being a gray hat and a green and white-striped polo-style shirt. Anthony Asbury performed him in seasons 1 through 8, but at the beginning of season 9, he was performed by Noel MacNeal.
He is a great fan of Cliff Hanger books.
Lionel Lion is friends with Gus Bunny, Martha Reader, The Vowelles, Johnny Consonanti, Lenny Lizard, and Heath the Thesaurus.
Trivia
[
]
His outfit was eventually changed to a light green shirt with the number 42 on the front and a red cap, which he also wears in the animated episodes.