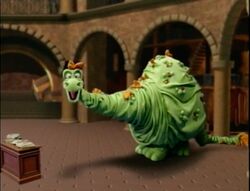 Heath is the library's resident thesaurus. His appearance is that of a sauropod-style dinosaur such as a brontosaurus, as a pun on the word "thesaurus." When a character asks about the meaning of a word, Heath often appears with a supply of synonyms to help explain.
He was performed by Tyler Bunch in Season 1 and Peter Linz from Season 2 onwards. He stopped making new appearances after Season 4, but occasionally appeared in repeated segments.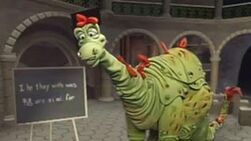 Trivia
[
]
By Season 2, he begins wearing glasses on his nose, notably in Ten Little Words. His body is also made to look more realistic and less cloth-like.
In Good Night, Knight, Announcer Bunny said Heath the Thesaurus 3 times fast.