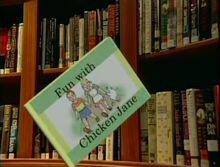 Fun with Chicken Jane is a recurring animated segment that appears in several Between the Lions episodes.
Theme Song Lyrics
Opening Theme:
Look, look! See, see! Coming down the lane Here comes Scot! Here comes Dot! Here comes Chicken Jane!
Closing Theme:
Look, look! See, see! Going up the lane There goes Scot! There goes Dot! There goes Chicken Jane!
Premise
"Fun with Chicken Jane" is a parody of Dick and Jane books for early readers. In these segments, two kids, Scot and Dot, stumble into a risky situation and Chicken Jane spells a word in an attempt to warn them away from the problem. Having successfully saved the kids from danger, Chicken Jane herself gets stuck in the situation. Scot and Dot cheerfully note Chicken Jane's injury or humiliation, and thank her for sparing them. At the end of each installment, no matter what misfortune has befallen Chicken Jane, and no matter what the time and weather, she is always shown with her wing in a sling as she and the children walk up the lane on a sunny day.
Appearances
Shooting Stars (April 7, 2000)
Fuzzy Wuzzy, Wuzzy? (April 13, 2000)
Lionel's Antlers (April 14, 2000)
Pandora's Box (April 19, 2000)
There's a Fly in My Soup (April 21, 2000)
Hug, Hug, Hug! (April 26, 2000)
The Ram in the Pepper Patch (April 27, 2000)
The Old Man (May 4, 2000)
Piggyback, Piggyback (May 9, 2000)
The Fox and the Crow (May 10, 2000)
Icarus's Wings (April 5, 2001)
Bobby the Hopping Robot (April 11, 2001)
Quest, Quest, Quest! (April 23, 2001)
Why the Baboon's Balloon Went Ka-boom! (April 25, 2001)
Tweet! Tweet! (May 1, 2001)
The Chess Mess (May 3, 2001)
Stop That Chicken! (May 4, 2001)
Pigs Aplenty (September 23, 2002)
What Parakeets Need (September 30, 2002)
Art Party (September 15, 2003)
Step by Step (September 18, 2003)
Pigs, Pigs, Pigs! (April 18, 2005)
The Empty Pot (April 25, 2005)
I Miss You, Stinky Face (May 30, 2005)
When I Was Five (June 13, 2005)
Knuffle Bunny (April 17, 2006)
Mississippi Skip and his Pirate Ship (April 24, 2006)
Very Loud, Very Big, Very Metal (May 1, 2006)
I'll Fix Anthony (May 8, 2006)
Pygmalion (May 15, 2006)
Abiyoyo (May 22, 2006)
The Dirty Smelly King (May 29, 2006)
Cheesybreadville (June 5, 2006)
The Gingerbread Man (June 12, 2006)
Cheesybreadville (November 19, 2007)
Owen and Mzee (September 22, 2008)
Knuffle Bunny (November 22, 2008)
Beetle Bop (September 28, 2009)
The Ants and the Grasshopper (September 20, 2010)
Stories