Two Coats, One Goat and One Boat
Season 3, Episode 9
Air date
November 11, 2002
Episode guide
Previous
Help!
Next
Treats!
Two Coats, One Goat and One Boat is the ninth episode of Between the Lions, and episode 64 in total.
Lionel tries to figure out what happened to his very rare Cliff Hanger book, Cliff Hanger and the Enchanted Goat in a Coat in a Boat.
Special guest star Dan Elias from Antiques Roadshow makes an appearance.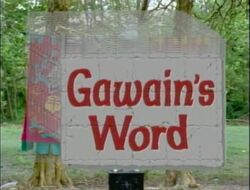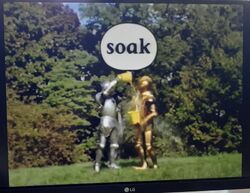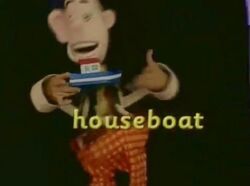 Polka King and his Polka Marmy sing a polka song about the "O-A", "oa" sound from their hit word "boat"
Factory: boat, oat, oak, soak
Gawain's Word: soak
A word from Ms. Kelly Ripa: soap
The Great Smartini: boat, house, houseboat
If You Can Read: coa (sung by Chris Cerf [coat, coast, coaster, coach, coal])
Fred Says: toad, croak
Newton Balls: oak, oat, moat, moan
Marmy's Poetry Corner: moan
Barnaby Busterfield and the Pigeons: A little bag of oats, and ate all the oats. No more oats!
During this book, longer is misspelled as lunger.
Community content is available under
CC-BY-SA
unless otherwise noted.