Rats is the 51st episode of Between the Lions.
Leona comes crying from the playground because she has been called a nasty name from her friend Tammy, while Frank the rat reads "Tales of the Irish Rats" to the family. Walter and Clay Pigeon parody the story titled "Cats!"
Martha Reader and The Vowelles: hat
Robots: hat, sat, cat
Barnaby B. Busterfield III: Cats!
Replaced Words Song: Cats, rats, bats (EKA: The Sad Dad)
Moby Duck: Rabbit
What's Your Name? Short A (season 2 version) (EKA: The Last Cliff Hanger)
14 Karat Soul: short a (rammalam) (EKA: Oh Yes, It Can!)
If You Can Read: at (EKA: The Sad Dad)
Fred Says: rattle
Colored Patterns: rattle, rat, rag, tag
Gawain's Word: tag
Letter Bugs: tag, tan, pan, pant, pants
Barnaby B. Busterfield III: Cats! part 2
Bert from Sesame Street makes a cameo in the segment "Dance in Smarty Pants" while later he is replaced with Elmo.
We now know Leona has a friend named Tammy.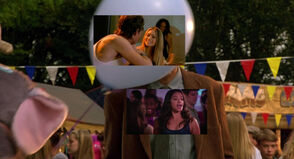 Community content is available under
CC-BY-SA
unless otherwise noted.