Lionel reads a newspaper article on how the San Fransico Giants clobberd the Chicago Cubs and asks Click to transport two Giants players out of the newspaper. But Leona thought they were real giants that said "FE FI FO FUM!" (like in "Jack and the Beanstalk") clobbering real cubs (like her and Lionel).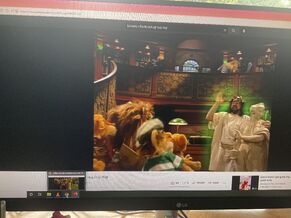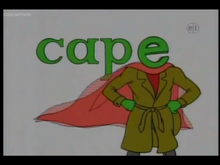 Martha Reader and The Vowelles: tub
Letter Bugs: tub, rug, bug, buzz
Fred Says: buzz
Colored Patterns: buzz, buck, puck
Not as Smart as a Puck (EKA: Episode 26: The Roar That Makes Them Run)
Heath the Thesaurus sings Ten Small Words (EKA: Episode 15: There's a Fly in My Soup)
Replaced Words Song: bug, tug, glug (EKA: Episode 09: Fuzzy Wuzzy, Wuzzy?)
Gawain's Word: hug
Maze: cub/cube
B.B. the King of Beasts sings Silent E Blues (EKA: Episode 18: Hug, Hug, Hug!)
Silent E: cap/cape (EKA: The Chap With Caps)
Busterfield: I suppose you can say that all this silliness was worth it because that little cub learned a good lesson. You can say it, but I won't.
---
Cleo: Leona, you really did think the Giants who clobbered the Cubs were the great, big, scary "fee-fi-fo-fum" giants, didn't you?
Leona: Well, maybe.
Cleo: Mmm. Well, if you ever have a worry like that again, tell us. We'll help. Your father and I would never bring anything into the library that might hurt you or your brother.
Leona: Well, how do I know that? I've only known you for, what, four years.
Cleo: Well, now you know.
Leona: Now I know.
---
Leona: The giants are coming. They clobber cubs. What am I going to do? What am I going to do?
---
Lionel: How can a cub stop a parent from making the biggest mistake of his life?
At one point of "Clobbered', a clip of a Season 2 episode of Zoom is shown. The makers of the show didn't need permission to show it, due to both shows being owned by WGBH.
Community content is available under
CC-BY-SA
unless otherwise noted.