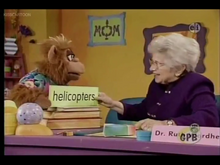 After Lionel reads The Popcorn Popper, they have Click transports the titular popper out of the book. "It was Lionel's idea. All of it."
The Vowelles: top
Gawain's Word: hop (EKA: Pandora's Box)
Denyce Graves: opera
The Great Smartini: popping popcorn (EKA: The Lost Rock)
Tongue Twisters: Choppers Chop, Shoppers Shop
Abstract: shop, slop, stop, top, pop
Fred Says: lollipop
The Adventures of Cliff Hanger: Cliff Hanger and the Big Ape and the Banana Drop (EKA: The Chap With Caps
The Word Doctor with Dr. Ruth Wordheimer: helicopters
Sloppy Pop sings Sloppy Pop (EKA: Pandora's Box)
Robots: pop, hop, hot, tot
Short song: tot, cot, not (EKA: Pandora's Box)
Color Pattern Words: tot, lot, lock
The Un-People: un-locked/re-locked (EKA: The Lost Rock)
Community content is available under
CC-BY-SA
unless otherwise noted.