Lionel's Great Escape Trick is the 14th episode of Season 1 and the series Between the Lions.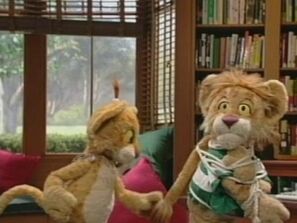 In this Episode Lionel is trapped ropes and Leona has magic words. But Lionel says he escaped them himself by Harry Houdini. Note: It's true because there was a rope trick.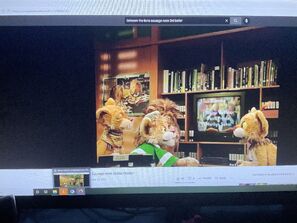 Martha Reader and The Vowelles: kick
Fred Says: trick
Stage Words: trick, tick, chick
Information Hen sings about birds
Tiger Words: truck [not trick]
What's Your Name?: short i
Faith Prince and Walter Bobbie: hit
Sam Spud: Terrible Pickle [not Terrible Pockle] (EKA: The Boy Who Cried Wolf)
Gawain's Word: tickle (EKA: Little Big Mouse)
Seesaw: tickle, tick, wick, wish, dish, fish
Martha Reader and The Vowelles (again): fish
Replaced Letter Songs: Tish, dish, wish, fish
Stage Words (again): dish, dig, jig, wig, wick, ick
Dr. Bertice Berry: ick
The Great Smartini: a chicken in a wig doing a jig
This is the fourth episode that doesn't deal with any particular book.
Community content is available under
CC-BY-SA
unless otherwise noted.