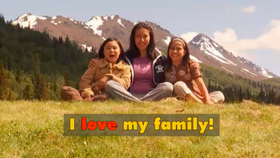 Red Parka Mary
Edit
Leona and her new best friend, Sadie, are scarier than they think.
Not Afraid of Dogs
Edit
A boy learns dogs aren't so scary after all.
Segments
Edit
Red Parka Mary
Edit
Helicopter: Lock, Lobster, Lollipop
Real Kids: I Love My Family
India.Arie sings about the word "love"
Arty Smartypants Reads Piggy's Pictures
Not Afraid of Dogs
Edit
Information Hen: Being Scared
Trampolini Brothers: Brave, Braver, Bravest
Synony Sam: Scared, Terrified, Petrified
Doghouse: Near/Far, Outside/Inside, Above/Below
Community content is available under
CC-BY-SA
unless otherwise noted.