Lionel's Antlers is the tenth episode of Between the Lions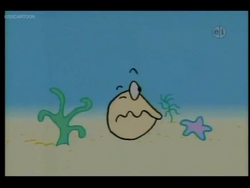 Lionel grows antlers and they won't come off. Cleo decides to read "Imogene's Antlers" to the cubs and the family tries to help him get them off. Throughout the episode, Lionel keeps hoping it's a dream, but in the end, it all turns out to be a dream of Leona's.
The Vowelles: man
Arty Smartypants: an, pan, plan, planet
A word from Dr. Bertice Berry: an
Letter Bugs: an, am, arm, art, part
Song: "The a-r Song" (EKA: Shooting Stars)
Stage Words: part, pat, pant, ant, antlers
Gawain's Word: dance
Abstract Words: dance, damp, lamp, clamp, clam
Replaced Letter Words: clam, swam, dam
What's Cooking With Theo and Cleo: Slammed and Rammed Ham With No Yam or Clam
Fun with Chicken Jane: Chicken Jane and the Bad Ram
What's Your Name: short a
Dr. Ruth Wordheimer: enchanting (EKA: Farmer Ken's Puzzle)
This episode is the only season 1 episode without Fred Says.
This is the first episode where a preexisting children's book is read.
Lionel makes a Rocky and Bullwinkle reference when he says to Cleo "You're not the one who's turning into Bullwinkle.", causing Theo to laugh. Ironically enough, this episode and the Rocky and Bullwinkle movie both came out in 2000.
Community content is available under
CC-BY-SA
unless otherwise noted.