Lionel's Antlers is the tenth episode of Between the Lions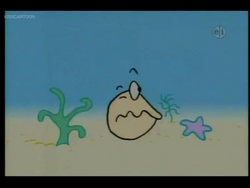 Lionel screamed and his antlers won't come off. Cleo decides to read "Imogene's Antlers" to the cubs.
Segments
Edit
The Vowelles: man
Arty Smartypants: an, pan, plan, planet
A word from Dr. Bertice Berry: an
Letter Bugs: an, am, arm, art, part
Song: "The a-r Song" (EKA: Shooting Stars)
Stage Words: part, pat, pant, ant, antlers
Gawain's Word: dance
Abstract Words: dance, damp, lamp, clamp, clam
Replaced Letter Words: clam, swam, dam
What's Cooking With Theo and Cleo: Slammed and Rammed Ham With No Yam or Clam
Fun with Chicken Jane: Chicken Jane and the Bad Ram
What's Your Name: short a
Dr. Ruth Wordheimer: enchanting (EKA: Farmer Ken's Puzzle)
This episode is the only season 1 episode without Fred Says.
This is the first episode where a preexisting children's book is read.
Community content is available under
CC-BY-SA
unless otherwise noted.