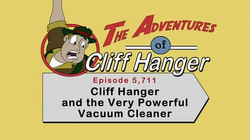 Cliff Hanger and the Very Powerful Vacuum Cleaner is a very good book from the The Adventures of Cliff Hanger book series. It was meant to teach about the vigor letter "V".
Cliff is, as usual, hanging from a cliff. Suddenly, he hears the voice of a vacuum cleaner vendor vending a very powerful vacuum cleaner to a vegetable gatherer. Cliff reads in his very valuable survival manual that if a vacuum cleaner vendor is vending a very powerful vacuum cleaner, move under the hose and get vacuumed off the cliff. The vendor pushes a violet-colored button, which activates the vacuum cleaner, vacuuming up all the vegetables in view (and Cliff). However, the vegetable gatherer asks how to get them out. The vendor explains that to do that, she must point the hose up in the air, and push a vermillion-colored button located directly under the violet one, After he pushes the button, everything inside flies out, and Cliff returns to his branch.
Community content is available under
CC-BY-SA
unless otherwise noted.